Coach. Prada. Gucci. Bulgari. A quick scan of the luxury brands featured on this street would have you thinking you were walking on Fifth Avenue or Beverly Hill's Rodeo Drive. In reality, you're somewhere even better: Omotesando Dori. Omotesando is a prime location for luxury and designer brands, but what's even more impressive than Omotesando's vast collection of fashion and jewelry stores is the stunning architectural creations that these stores are housed in. Walking down the street of "Tokyo's Champs-Élysées", you'll find building after building of sleek angles and carefully crafted supports; in fact, ten of the buildings featured on this list were created by Pritzker Prize recipients, which is generally regarded as the highest possible honor for modern architects. Without further ado, check out these 14 amazing buildings:
---
1. Christian Dior Building
Designed by prestigious architectural company SANAA as a showroom for Christian Dior's designs, the Dior building appears fairly regular at first, with transparent glass walls and a trapezoidal shape. However, Once night falls, and the building turns into a giant paper lantern glowing from the inside out, you'll be hard-pressed to find anything more beautiful.
Photo via Wikipedia
---
2. Tod's Omotesando Building
Designed by 2013 Pritzker winner Toyo Ito, Tod's Omotesando Building defines the term "concrete jungle", with its interlocking white glass bands that bear a striking resemblance to the nearby elm trees. Tod's Omotesando Building is of the many beautiful buildings that sparked the "luxutecture" movement, where luxury brands such as Gucci or Prada began to use the exterior design of their buildings to advertise the products within.
Photo Via Toyo Ito
---
3. Omotesando Hills
While it is the newest building to open on the street, Omotesando Hills is perhaps the most famous; it's almost impossible to discuss Omotesando architecture without mentioning Omotesando Hills. Designed by 1995 Pritzker recipient Tadao Ando, the shopping complex occupies a vast section of Omotesando, covering nearly two hundred and fifty meters of the street. The building takes advantage of Omotesando Street's natural slope by building its floor parallel to the ground, as well as building underground.
Photo via Wikipedia
---
4. Spiral
Although Spiral was originally commissioned by lingerie company Wacoal in 1985, today it serves as a film and theater venue, gallery, cafe, restaurant, bar, and one of the most iconic buildings on Omotesando Street. While architect and Pritzker recipient Fumihiko Mako is often praised for his use of simple geometric shapes and varying materials in constructing the building's exterior, Spiral's most prominent feature would actually be the glass Spiral Ramp that connects the first and second floor.
Photo via Wikipedia
---
5. Hanae Mori
The oldest of Omotesando's architectural wonders, the Hanae Mori building's exterior was constructed using reflective mirrors. On days with good weather, the building often appears as if it's covered by a canvas of sunny blue sky and the occasional cloud. This is the first building on our list to be designed by Pritzker winner Kenzo Tange, but keep your eye out for some more!
 Photo via Wikipedia
---
6. Prada Aoyoma
The Prada Aoyama building's design is all about entertaining the eye, from the concave-convex curves of its intersecting supports to its glassy, almost rainbow like glaze. The Prada Aoyama building was designed by Swiss architecture firm Herzog & de Meuron, founded by Pritzker architects Jacques Herzog and Pierre de Meuron. The transparent glass exterior of the building allows the products inside to be showcased even to passersby on the street, which only adds to the building's appeal.
 Photo via Wikipedia
---
7. Yoyogi National Stadium
While Yoyogi National Stadium isn't exactly on Omotesando Street, it's so well designed that I just had to feature it! The Yoyogi National Stadium was designed by Kenzo Tange in  1961 to house the 1964 Summer Olympics. The building is perhaps most well known for its suspension roof design, which curves and sweeps upwards atop the stadium. Today, the building is still used for various sporting events, and is also one of the most popular tourist destinations in Tokyo.
 Photo via Wikipedia
---
8. LUCE TOYO KITCHEN STYLE
LUCE TOYO KITCHEN STYLE is a store dedicated to interior design, specifically creating luxury style kitchens. However, it's clear the company put just as much emphasis on it's exterior, as they hired renowned Japanese architect and Pritzker recipient Kazuyo Sejima to design the building. As with many of Sejima's buildings, the LUCE store uses a good deal of glass, marble, and metals, featuring a double covering of metal mesh and glass on the outside.
Photo via Luce Toyo Kitchen
---
9. Sunny Hills Japan
Designed by Kengo Kuma, Sunny Hills Japan differs from the other shops on this list in that it doesn't specialize in selling high end luxury clothing or accessories, but instead offers Taiwanese pineapple cakes. The store is built nearly entirely out of wood, and is designed to look like a giant bamboo basket, so it's pretty hard to miss on a street full of sleek steel and glass towers. The crisscrossing wood exterior lets in plenty of natural light and gives the building a relaxed and happy atmosphere, so be sure to visit during the day!
Photo via Kengo Kuma
---
10. Hugo Boss
At first glance, the Hugo Boss building sort of looks like a Paleolithic tower made of mammoth bones, which is a creative, if not interesting, way of capturing the brand's manly appeal. On the other hand, this Norihiko Dan-designed masterpiece still manages to ooze elegance and class. Like many of the other buildings on this list, this store was designed to showcase the products inside, so the giant glass windows ensure that even shoppers across the street can browse the store's clothing.
 Photo via Norihiko Dan
---
11. Gyre
Designed by the Netherlands-based architecture firm MVRDV, the Gyre markets itself as a building that's meant to make browsers "shop and think". The unconventional stacking of the Gyre's floors makes it clear that each store within the building is independent, but still gives off a sense of cohesive luxury from floor to floor. Stores within the Gyra include Bulgari, Chanel,  as well as a MoMA Design Store.
Photo via MVDRV
---
12. Espace Louis Vuitton
Here's another must-see-at-night building! The Espace Louis Vuitton building, which was designed by Jun Aoki, was first conceptualized as a series of trunks stacked on top of one another. Each section and floor of the store is a different "trunk" and together they form a beautiful store. At nighttime, the glass walls allow the lights inside to shine outward, giving the entire building a beautiful glow.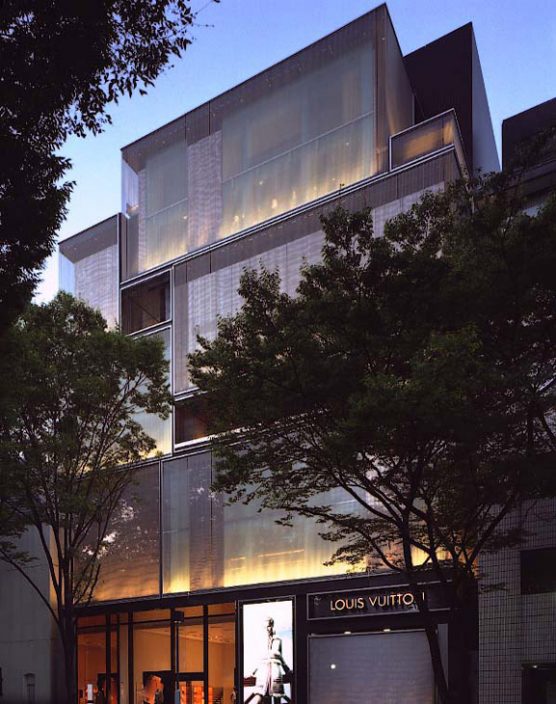 Photo via Jun Aoki
---
13. Emporio Armani
I'm torn between recommending visitors to see this building at daytime or nighttime, because it's equally beautiful in different ways.  During the day, the glass panels along the front of the building stay translucent, which gives the building an elegant and classy feel. During the night, the panels light up into varying shades of bright colors, which adds to the building's appeal. The building was constructed in the image of the brand's Milan store, and features the largest collection of Emporio Armani products in Japan.
Photo via Karen Djuanda
---
14. Coach
With sleek glass panels arranged in a beautiful herringbone pattern, the Coach store oozes luxe. Coach takes full advantage of its transparent glass walls by constantly changing the interior, which gives the entire building a different look with every update. If the building design looks familiar, it's because the store's exterior was created  by OMA New York, who designed other city icons such as the Coach in Macy's Herald Square, Taipei Performing Arts Center, and The Plaza at Santa Monica.
Photos via OMA New York